Residential Pool Repair Miami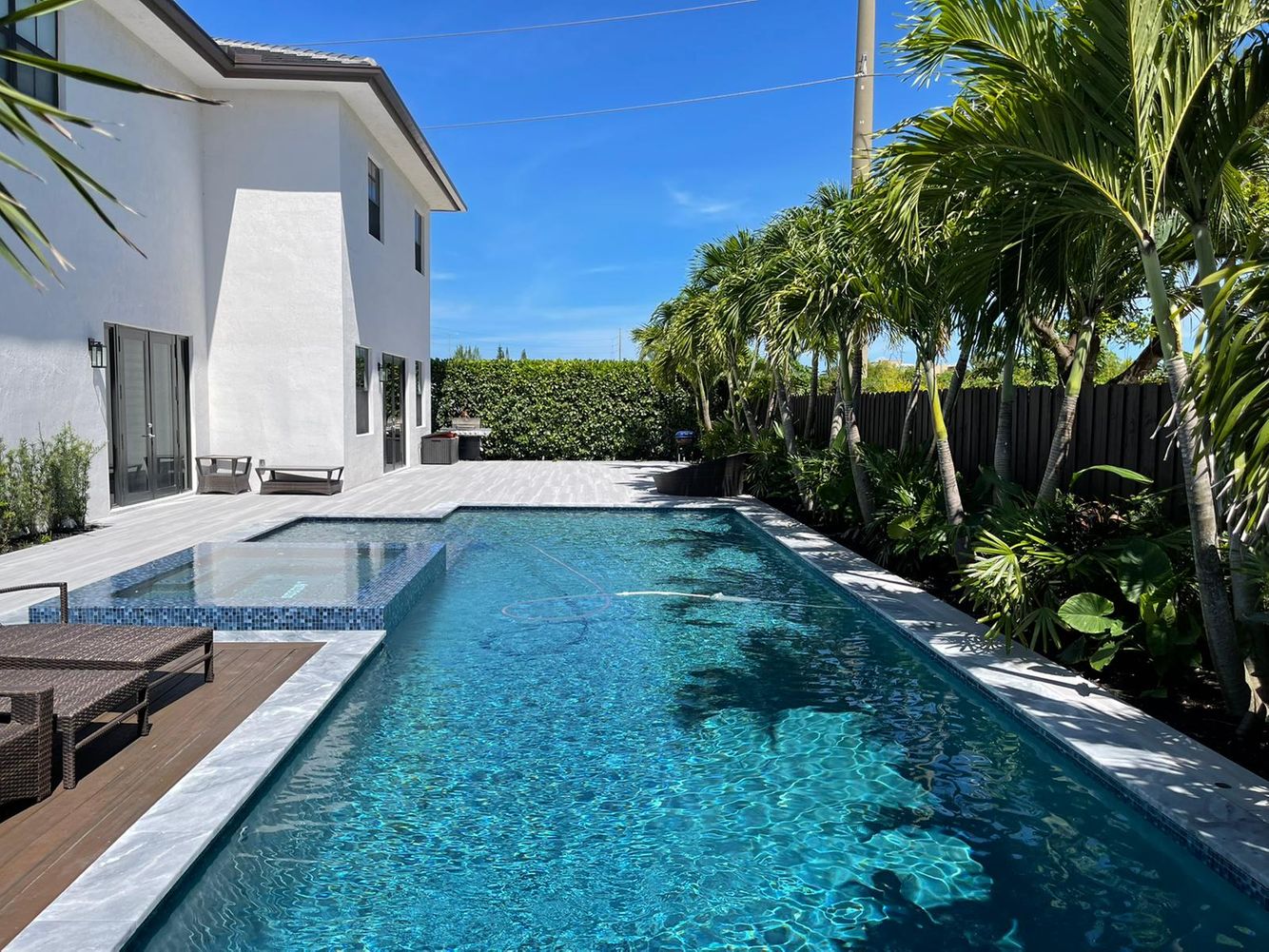 POOL REPAIR SERVICES FOR YOUR MIAMI HOME
Welcome to Miami Pool Building. We pride ourselves in being your trusted source for incredible pool repairs services. Our pool repair company offers many different types of top-quality pool repair services, ensuring that your pool can be thoroughly enjoyed.
Do you have a dirty filter, faulty heater, broken pump, pool leak or any other pool issue? Our pool repair company truly understands that it can be a nightmare to fix your pool issues, so we don't recommend you repair pool problems yourself.
We've successfully repaired hundreds of pools over the years, and we can do the same for a pool at your Miami home. We look forward to providing you with a hassle-free, pool repair experience.
ADVANTAGES OF OUR MIAMI POOL INSTALLATION
When you are searching for exceptional pool companies, you're probably wondering why you should trust Miami Pool Building for your pool repairs. We're trusted for top-quality pool repairs throughout Miami because of our outstanding customer care, unmatched professional workmanship, flexible schedule, and competitive pricing.

Customer Satisfaction
Our pool repair company takes pride in offering amazing customer care, regardless of the pool repair. With every pool repairs project, we strive to always exceed our customers' expectations. In order to get them the pool they've always wanted, we maintain an open communication with our customers.

Affordable Rates
Our pool repair company strongly believes that everyone should be able to enjoy a beautiful, quality pool, which is why we offer extremely affordable pool repair services. We can't wait to help you get your dream pool without breaking the bank.

Years Of Experience
Due to our many years of professional poor repairs experience, we know exactly how to keep your pool looking great. Our significant experience also enables us to create safe pools for optimal fun. Our professionals are passionate about ensuring that you have the best pool on the block.

Flexible Schedule
Our pool repair company is on a mission to provide fast and reliable pool repair services. Since we have a flexible schedule, our customers can count on us to offer excellent pool repairs services at a time that's convenient for them.

No Job Is Too Big Or Small
Our Miami Pool Building can perform an extensive array of exceptional pool repairs services, from cleaning filters to fixing pumps. We can fix almost any common pool problem. Our unique ability to work on big and small pool projects gives our customers ultimate peace of mind.

Free Quotes & Inspections
If you're serious about getting a beautiful, safe pool with our pool repairs services, we're happy to provide you with free quotes and inspections. We believe it's important to give our customers free quotes so that there aren't any surprises. Contact our Miami Pool Builders today for a free quote and inspection.
FINANCE YOUR MIAMI POOL REPAIRS
If you're worried about how you will afford pool repairs, why not take advantage of our incredible financing options? Many of our customers truly appreciate these financing options because they can enjoy predictable, affordable payments.
Let us work with you to find the perfect financing option for your budget. As soon as you're approved for our financing package, we'll begin working on your project right away.
CONTACT OUR MIAMI POOL REPAIR TEAM
At Miami Pool Building, our overarching goal is to be the best pool repair service provider in the area. We're most known for providing top-quality workmanship while ensuring that our customers are always completely satisfied. Our Miami Pool Builders only perform our services with premium materials, so our customers won't ever be disappointed in the final result.
Give our pool repair company a call as soon as possible if you're dealing with any pool issues. Our professionals can quickly fix your pool problems before they get any worse.
We are always grateful for the opportunity to repair your pool in a timely manner. Contact our top notch pool repair company today.